We Need Your Support
Donations are tax deductible and you will receive a charitable tax receipt for 100% of your gift.
Support CCD's work on the Carter case: Help To Live Not Die.
Act Now
You Presence is requested at CASHRA2013.ca Early bird registration ends April 18, so register online. Read more.
Sign Up for a Voice of Our Own
A quarterly newsletter from CCD.
Social Policy Archives
Social Policy
National Action Plan on Disability
Poverty
Employment
Disability Supports
Access/Inclusion
Federal Disability Act
Income
Disabling Poverty/Enabling Citizenship
Immigration
Federal Elections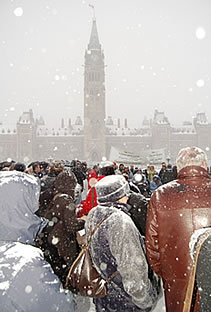 End Exclusion supporters rally in support of an accessible and inclusive Canada.