Act Now
Write to your MP supporting the Vulnerable Persons Standard and asking that its terms be incorporated in the law regulating assisted suicide/euthanasia. Read more.
Sign Up for a Voice of Our Own
A quarterly newsletter from CCD.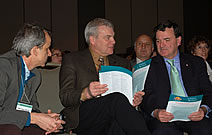 Michael Bach, CACL, and Laurie Beachell, CCD National Coordinator, share the National Action Plan with Finance Minister Flaherty.