Act Now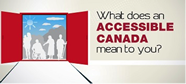 The Government of Canada is leading consultations to inform planned accessibility legislation.
In-person sessions are coming soon to your community. Now is the chance to have your say. Read more.
Sign Up for a Voice of Our Own
A quarterly newsletter from CCD.
Human Rights
CCD's work in the area of Human Rights and Equality Rights apprises judges, law-makers and other decision-makers about how disability must be taken into consideration in all areas of community life, thus ensuring Canadians with disabilities have full enjoyment of their human and equality rights. The Canadian Human Rights Act prohibits discrimination against persons with disabilities and the Equality Rights Section of the Canadian Charter of Rights and Freedoms guarantees people with disabilities equal benefit and protection before and under the law.
CCD's Human Rights Committee monitors court cases and law reform which could affect persons with disabilities, guides CCD's legal interventions, analyzes human rights/equality rights questions for the CCD National Council and provides recommendations on possible courses of action.
Recent Work
February 27, 2018
The Council of Canadians with Disabilities (CCD), the ODSP Action Coalition and the Income Security Advocacy Centre (ISAC) will be at the Divisional Court - Superior Court of Justice to intervene in an appeal hearing on a case called Abbey v. Ontario on February 28, 2018. ARCH Disability Law Centre (ARCH) and ISAC are representing the interveners. Read more.
July 28, 2017
Sheila Elson was offered Medical Aid in Dying (MAID) for her daughter who lives with spina bifida and cerebral palsy. Read more.
January 25, 2017
On January 26, 2016, CCD representatives will be available to talk to the media about how "Mary Kills People" portrays people with disabilities and euthanasia and whether the program violates the CRTC's Equitable Portrayal Code. Read more.
More on Human Rights
November 26, 2016
September 22, 2016
June 15, 2016
June 15, 2016
April 19, 2016
April 15, 2016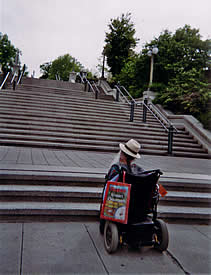 Jim Derksen views inaccessible York Street Steps in Ottawa. CCD intervened in the Brown Case, which challenged an inadequate accommodation developed for the Steps.
January 26, 2004
This paper traces the evolution of disability equality rights; from demanding recognition and inclusion in human rights law, to becoming experienced litigatiors for a substantive vision of equality in Canada. Read more.
The Latimer case directly concerned the rights of persons with disabilities. Mr. Latimer's view was that a parent has the right to kill a child with a disability if that parent decides the child's quality of life no longer warrants its continuation. CCD explained to the court and to the public how that view threatens the lives of people with disabilities and is deeply offensive to fundamental constitutional values. Learn more.