Act Now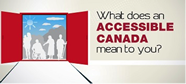 The Government of Canada is leading consultations to inform planned accessibility legislation.
In-person sessions are coming soon to your community. Now is the chance to have your say. Read more.
Sign Up for a Voice of Our Own
A quarterly newsletter from CCD.
Access/Inclusion
People with disabilities are moving toward equality. Evidence of this progress is apparent in the community: pay phones equipped with TTYs, audible traffic signals, tactile cues on streets, ramps, curb cuts, Braille elevator buttons. CCD has helped bring about these changes.
Through CCD, people with disabilities advise, critique, intervene, liaise and partner to improve access and inclusion in Canada.
A 2004 Environics poll demonstrated that Canadian citizens support inclusion and access for persons with disabilities.
CCD has been sharing its vision of how to achieve an accessible and inclusive Canada with private and public decision-makers responsible for the key systems of society, such as the physical and cultural environment, transportation, income and benefits, employment, health and social services.
Recent Work
March 23, 2016
Throughout the life of this government, CCD will be advancing measures, such as the refundable DTC, designed to improve the social and economic conditions of people with disabilities, particularly women and girls with disabilities and others facing multiple forms of discrimination. Read more.
March 1, 2016
When the report, "Medical Assistance in Dying: A Patient-Centred Approach" was released last week, "I was anxious to read it, as CCD has been very active in this issue," says John Rae, Second Vice Chair of the Council of Canadians with Disabilities. "But, to my surprise, it was released only in an inaccessible PDF version that I could not read, and this discriminates against me and all Canadians who cannot read conventional print," added Rae. Read more.
November 19, 2014
The ultimate goal of TVAC's RIGHT THE WRONG national campaign is to ensure that the Canadian born Thalidomide survivors can age with dignity. YOUR VOICE, YOUR PARTICIPATION can make a difference! Read more.
More on Access/Inclusion
November 8, 2014
October 21, 2014
October 7, 2014
October 1, 2014
September 26, 2014
September 26, 2014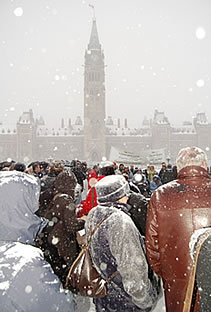 End Exclusion supporters rally in support of an accessible and inclusive Canada.