Act Now
Write to your Member of Parliament in support of an accessible and inclusive postal service. Read more.
Sign Up for a Voice of Our Own
A quarterly newsletter from CCD.
Access/Inclusion
People with disabilities are moving toward equality. Evidence of this progress is apparent in the community: pay phones equipped with TTYs, audible traffic signals, tactile cues on streets, ramps, curb cuts, Braille elevator buttons. CCD has helped bring about these changes.
Through CCD, people with disabilities advise, critique, intervene, liaise and partner to improve access and inclusion in Canada.
A 2004 Environics poll demonstrated that Canadian citizens support inclusion and access for persons with disabilities.
CCD has been sharing its vision of how to achieve an accessible and inclusive Canada with private and public decision-makers responsible for the key systems of society, such as the physical and cultural environment, transportation, income and benefits, employment, health and social services.
Recent Work
October 21, 2014
This week more Canadians will be losing door-to-door mail delivery. Like other Canadians, people with disabilities will be looking for their mail at a community mailbox. "Hopefully, only their mail will be waiting for them and not barriers which prevent them from using the mailbox in an accessible and dignified manner," stated Tony Dolan, CCD Chairperson. Read more.
October 1, 2014
The great need now is to be able to recognize human rights and their violations as exactly that, so that such abuses can be stopped and prevented. Read more.
More on Access/Inclusion
September 26, 2014
September 26, 2014
September 24, 2014
September 18, 2014
August 19, 2014
August 18, 2014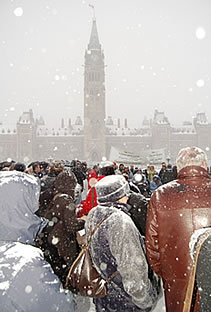 End Exclusion supporters rally in support of an accessible and inclusive Canada.