We Need Your Support
Donations are tax deductible and you will receive a charitable tax receipt for 100% of your gift.
Support CCD's work on the Carter case: Help To Live Not Die.
Act Now
You Presence is requested at CASHRA2013.ca Early bird registration ends April 18, so register online. Read more.
Sign Up for a Voice of Our Own
A quarterly newsletter from CCD.
Access/Inclusion
People with disabilities are moving toward equality. Evidence of this progress is apparent in the community: pay phones equipped with TTYs, audible traffic signals, tactile cues on streets, ramps, curb cuts, Braille elevator buttons. CCD has helped bring about these changes.
Through CCD, people with disabilities advise, critique, intervene, liaise and partner to improve access and inclusion in Canada.
A 2004 Environics poll demonstrated that Canadian citizens support inclusion and access for persons with disabilities.
CCD has been sharing its vision of how to achieve an accessible and inclusive Canada with private and public decision-makers responsible for the key systems of society, such as the physical and cultural environment, transportation, income and benefits, employment, health and social services.
Recent Work
February 12, 2013
I'm asking if you could take 15 minutes to contact your MP and urge their support of Bill C-400.~Tony Dolan, CCD Chairperson
December 3, 2012
"December 3rd, International Day of Persons with Disabilities, is a day to celebrate and highlight our achievements. Much has been achieved but much remains to be done. This year we ask all Canadians to reflect on the fact that disability is only an accident or a diagnosis away and that we all must work for and support efforts to make Canada more inclusive and accessible," said Tony Dolan, CCD National Chairperson. Read more.
June 14, 2012
Tony Dolan was returned to the office of Chairperson for a second term. Joining Tony on the Executive Committee are Pat Danforth, First Vice Chair; Steve Estey, Second Vice Chair; Marc Workman, Secretary; Anne McPhee, Treasurer; and Carmela Hutchison, Member-at-Large on the Executive. Read more.
More on Access/Inclusion
June 5, 2012
March 14, 2012
December 1, 2011
November 16, 2011
May 4, 2011
January 27, 2011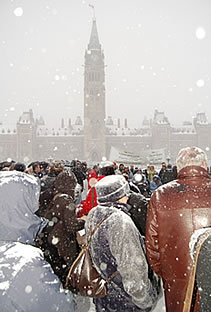 End Exclusion supporters rally in support of an accessible and inclusive Canada.