We Need Your Support
Donations are tax deductible and you will receive a charitable tax receipt for 100% of your gift.
Support CCD's work on the Carter case: Help To Live Not Die.
Act Now
Write to your Member of Parliament in support of an accessible and inclusive postal service. Read more.
Sign Up for a Voice of Our Own
A quarterly newsletter from CCD.
Rail
Passenger rail travel and train stations are federally regulated. CCD has worked to remove obstacles to mobility in this mode of travel.
More on Rail
February 9, 2006
March 15, 2005
December 3, 2003
November 5, 2003
October 29, 2003
October 29, 2003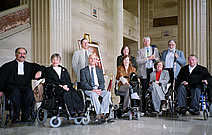 CCD wins VIA Rail case at the Supreme Court of Canada on March 23, 2007.